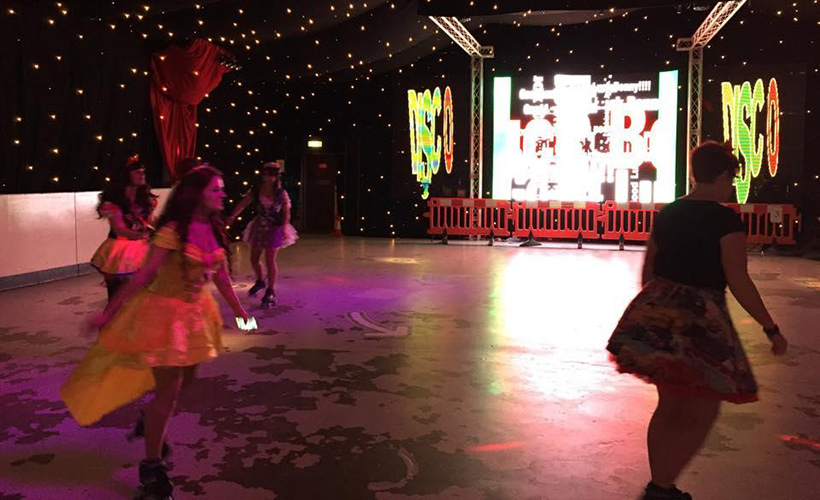 North Devon Arena & Family Skate Centre
Just a few short weeks ago, and as a change from all the usual water sports, I decided to take my young enthusiastic niece to the North Devon Skating Arena.
We've been several times since, I'm very happy to take her there, and she absolutely loves it, and after just half a dozen sessions, she's blossomed into a beautiful little skater. The Arena is situated in Lundy View, at the very top of the Mullacott Industrial Estate, so there's loads of free parking space which is great, and the owner, Mike Carter was telling us he converted it from an Auto Repairs garage, and we all thought what a brilliant use of the space it was!
A day out of the water!
There's such a nice atmosphere in the rink itself, it's warm and inviting, and I thought what a lovely place it was to learn to skate. It's a large room, with stars all over the walls and ceiling. There's a screen showing the skaters, a very welcome cafe and lots of tables and chairs where you can sit and watch, and as a bonus there's great disco music playing throughout! Every so often Mike or his team play special games such as Limbo skating, and also the 'Ghostbusters' theme song which causes chaos with everyone having to skate in the opposite direction, but it certainly does look a lot of fun! So too do the new ramps which have recently been installed for the adventurous. There's a soft play area for small children, and the Arena also offers skate hire, skating tuition and skateboard and scooter sessions, as well as some amazing children's parties, after school clubs, a little shop and even a Licensed Bar for the adults!
However, the Arena is not only a great daytime skating rink. On Saturday evenings, there's an over 18s Roller Disco, or for special occasions, the carpet's put down, the stars are everywhere, and the room becomes a beautiful nightclub style evening venue for adult parties. Recently too, the Arena has fast become an exciting venue for evening performances from groups such as Harry Munk, ex Massive Attack, with support acts, who entertained everyone last month, and Mr Big, Eric Martin who is due to appear soon. What a treat for Ilfracombe! There really is something for everyone, organisations, corporate, groups and clubs are all catered for.
Membership is free, so have a look at the Arena website which gives details of times, events and the very reasonable admission prices, or give them a call. It really is a fantastic way to spend a couple of hours for the whole family. They have a lot going on, every day, whatever the weather!
North Devon Arena, Mullacott Industrial Estate, Ilfracombe, North Devon EX34 8PL
Tel: 01271 867080 [email protected] www.northdevonarena.com